Personalized Survivors Manual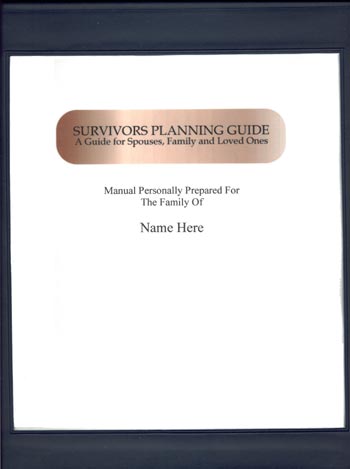 Our Personalized Survivors Manual will provide a blueprint for loved ones to follow after the death of your spouse or loved one. These are things your family should know following your death.
DOES THIS MANUAL TAKE THE PLACE OF A WILL, LIVING WILL OR LIVING TRUST?
No, this is not designed to take the place of your will or living trust. We recommend you utilize a lawyer that specializes in wills, trusts and estate planning to review your estate to avoid probate problems. We also recommend you talk to an estate planner to minimize the tax burden on your estate.
HOW DOES IT WORK?
Choose the option that fits your budget. You will receive a questionnaire, either by mail or email. Complete the questionnaire. Place the completed questionnaire in a 3 ring binder and keep in a place where family members can readily find it.
WHAT DO I GET?
Your receive a comprehensive Survivors Guide Questionnaire covering personal information, a complete funeral planning guide, financial information and more. If you choose to have the questionnaire mailed to you, it will come in a binder, with your name on the cover, and will include pocket folders to store important documents and a business card holder for contacts. The printed version also contains Federal Trade Commission information about funerals, as well as a sample Living Will.
WHAT INFORMATION DOES THE SURVIVORS GUIDE QUESTIONNAIRE CONTAIN?
This manual is not designed to take the place of your will or living trust. The questionnaire is designed to be a thorough as possible. It covers such things as:
Personal information
Funeral Planning information
Legal information (wills and estate information)
Financial information (portfolios, banking, etc.)
Insurance information
Important contacts
Miscellaneous information, such as home and auto repairs, etc.
Property promised
Home Information
WHAT DOES IT COST?
The cost depends on how you want to enter the information and whether you want to download the completed manual or have it printed and mailed to you. Click here to see order options.
Don't leave your family and loved ones in the dark after your death. Life has to go on after the a spouse, partner or parent passes away. Dealing with the myriad of decision processes immediately following is a confusing ordeal to say the least. And we seldom have the time or foresight to talk about all the decisions that have to be made. From the major issues such as the will and estate, down to the everyday matters such as paying bills and doing maintenance on the car. So the survivors have to stumble along learning as they go.